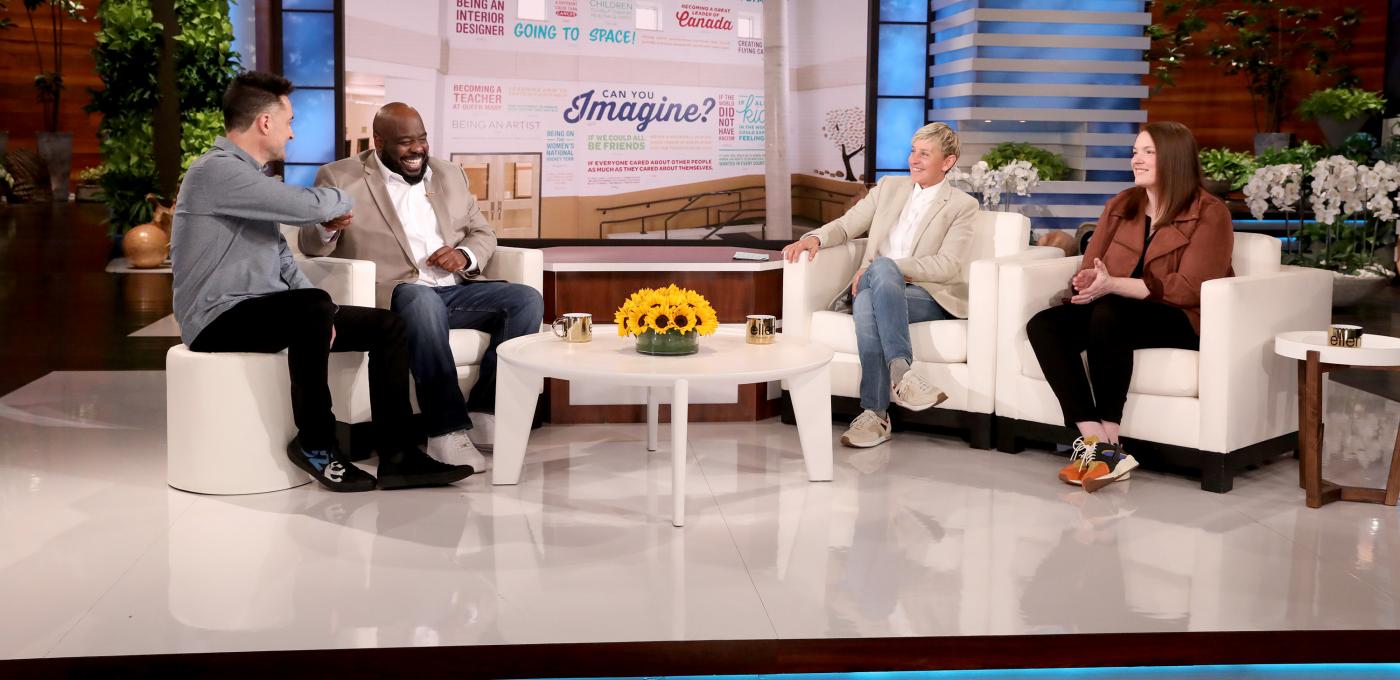 Can You Imagine? Three magic words that have changed lives and made dreams come true!
Brian sat down with Ellen DeGeneres to discuss how the possibility mindset supports our purpose of changing lives and dreaming BIG.
Founder and CEO Brian Scudamore credits three simple words with changing his life, and his business. Can You Imagine? has always been an important part of our culture at O2E Brands, and now the Can You Imagine? movement is on primetime on The Ellen DeGeneres Show! 

After bringing 1-800-GOT-JUNK? to the show in October 2021, Brian was invited back - this time as a guest - bringing his 'Can You Imagine?' mindset to schools and communities across the country. 
Click the video link above to watch a clip from the episode and learn more about the Can You Imagine? movement.
A Dream Realized
Brian's appearance was extra meaningful to our company, as it was focused on the Can You Imagine? movement. These three simple words have always been an important part of our culture because it encourages us to dream big. 
Over 32 years ago, Brian had a dream to build the world's largest junk removal company. With just $700 and an old pick-up truck, that dream helped grow 1-800-GOT-JUNK? to a multi-million dollar business with over 160 franchises across North America and Australia. Asking Can You Imagine? helped 1-800-GOT-JUNK? get us on The Oprah Winfrey Show, expand to Australia, get featured on a Starbucks cup, and shut down San Francisco's Golden Gate Bridge so we could drive 32 1-800-GOT-JUNK? trucks across it. 
"Our goal to get on Ellen was part of our "Can You Imagine?" dreams at O2E Brands… So sitting with Ellen and sharing the Can You Imagine? movement is a full circle moment!!"
 - Brian Scudamore 
Bringing Can You Imagine? Across North America
On the episode, Ellen matched us up with Darrell Watson, a teacher out of Washington, D.C. and fan-favorite guest of the show, who encourages his students to dream big. 
Together, Brian, Darrell and the local WOW 1 DAY PAINTING franchise team are joining forces to empower Darrell's students to create their own Can You Imagine? mural on the walls of their school. 
We've also created a series of resources designed to support learners to unlock imagination and ignite creative thinking. Why? It's simple: We know reaching goals and making the impossible possible feels exceptional and we want to empower you with tools to dream big… Can You Imagine the possibilities?
Visit brianscudamore.com to learn how you can engage your teams, classrooms, family, and community (resources are applicable to all ages) in bringing Can You Imagine? dreams to life.