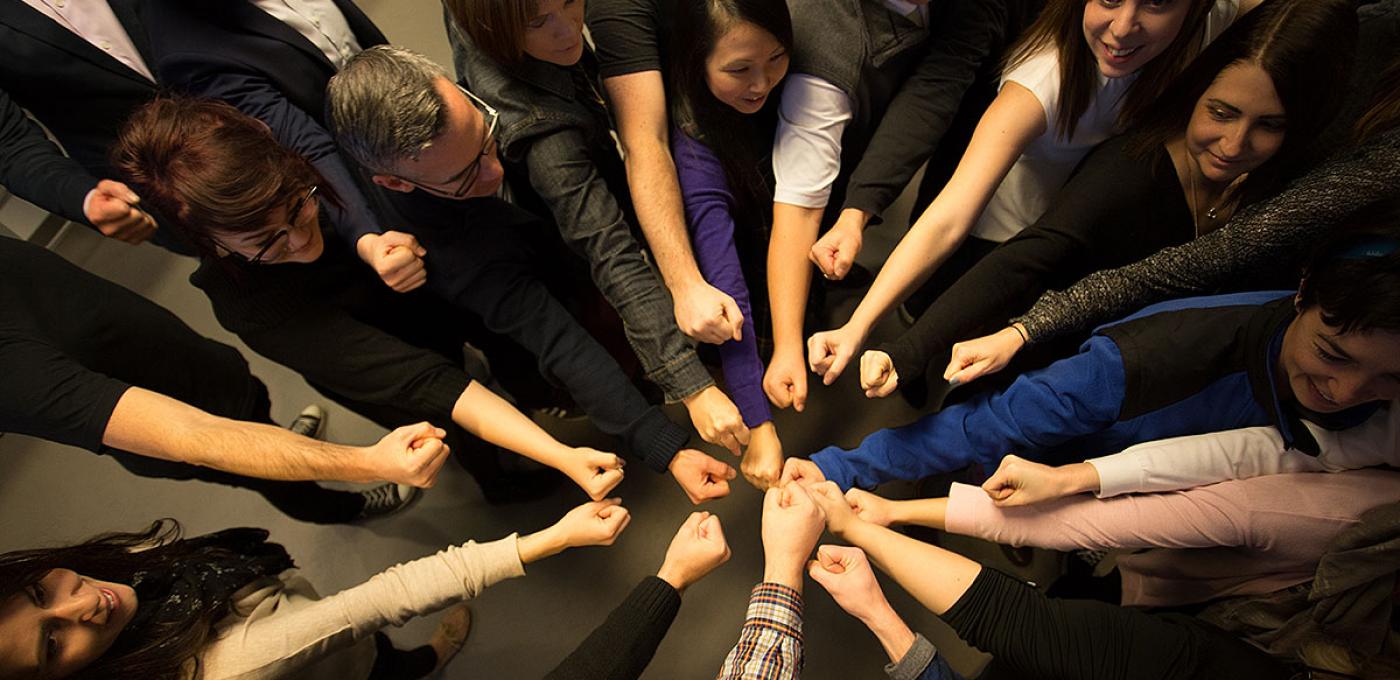 Forbes: This Meeting Will Transform Your Business And Your Bottom Line
This article was contributed to Forbes.com by Brian Scudamore.
Every day at 10:53 a.m. the ring of a marine bell cuts through the office at O2E Brands. It's time for Huddle. Over 200 employees jump up from whatever they're doing and gather in one room for a high-energy standup meeting.
With its fast pace and family-dinner feel, Huddle is the heartbeat of our company. By giving us a daily chance to communicate our top-level priorities, it saves us hundreds of emails and prevents time-wasting meetings. It promotes employee engagement by getting everyone together, empowers people to take ownership in their roles, and increases transparency overall.
Here are five quick steps for creating your own Huddle or watch it in action at O2E Brands.
Step 1: Gather For Good News
When the bell rings, everyone has two minutes to hightail to Huddle. It starts promptly at 10:55 a.m. and is timed down to the second to keep it at seven minutes. Once everyone's arrived, the moderator (a rotating roster of "Huddle-certified" hosts), asks the crowd for good news.
Starting with good news pumps everyone up. Even when the recession hit and business dwindled, there were still some positive things to highlight, for instance work anniversaries or small revenue wins. Good news keeps us motivated and together as a team, even in the tough times.
Note: good news always gets a big clap!
Step 2: Track And Share Metrics That Matter
We track key metrics such as online traffic, jobs completed, and revenue, and share them with everyone in the company. This style of open book management helps everyone understand how they influence our business and make decisions to drive our goals.
Step 3: Highlight Different Departments
Ninety-second updates are given by departments on a rotating basis. Discussing projects and milestones breaks down silos, facilitates collaboration, and aligns us on our goals.
Step 4: Open The Floor To Feedback
Next up, people are invited to mention missing systems and opportunities. The floor is open - for example, we've had call center agents ask our COO tough questions - and it keeps us all accountable. It's also an opportunity to give kudos or bring up ideas to improve profitability.
Step 5: End On A Cheer
My favourite part about huddle is ending at 11:02 a.m. on a cheer. It may sound campy, but it really brings up the energy. Cheers can reiterate something positive from huddle, or they can be jokes or song lyrics. The point is that everyone leaves smiling and motivated for the rest of the day.
Huddles have been around for years in sports and in the workplace, and they come in a variety of styles. We've found the perfect formula for ours and it's been an integral part to growing the companies under the O2E Brands banner (1-800-GOT-JUNK?, WOW 1 DAY PAINTING, and Shack Shine). Find your own way to do Huddle and watch your culture - and your profits - grow.
This article was contributed to Forbes.com by Brian Scudamore.