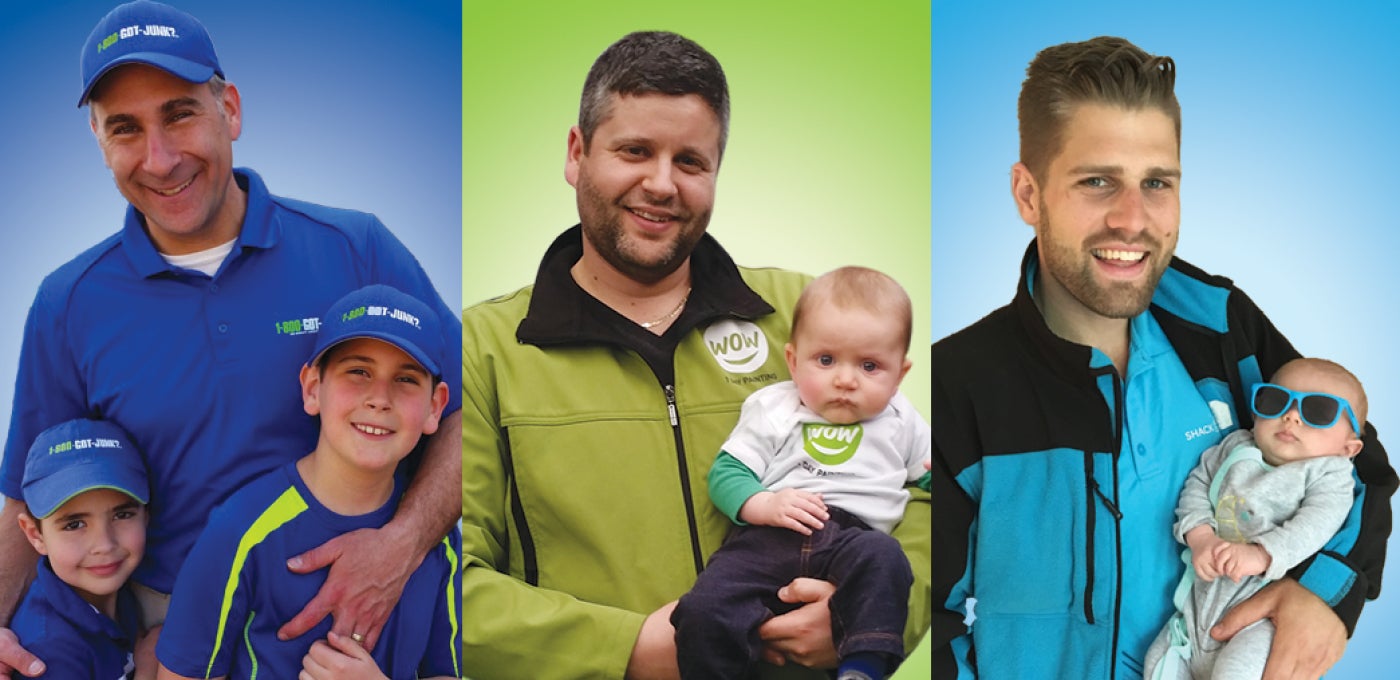 Want More Time With Your Kids? These 4 Dads Have Found the Secret
It's a cycle that's tough to break. You work hard to pay the bills and support your family, but you miss out on quality time and big milestones in your children's lives. Constantly struggling to balance work and home life can make you feel trapped.
But you don't have to settle for a life in limbo. You can be there to pick your kids up from school or attend a parent-teacher conference. You can be home for family dinners, date night, and to tuck your kids into bed.
Sound too good to be true? Below, three of our franchise partners share how becoming their own boss with O2E Brands gave them the freedom and flexibility to put their families first.
Tyrone DeBrouwer, WOW 1 DAY PAINTING, Kitchener/Waterloo
My first priority is my family and making sure they are getting the attention they deserve. In my previous job as project manager for an automobile manufacturer, I felt my hands were tied with how much time I could spend with them. Since starting my WOW 1 DAY PAINTING franchise, I am overjoyed to be going on my third field trip with my kids this year alone! Experiences like these really give you a better insight into your children's lives, rather than only seeing them in the evenings and on weekends. I can also set my schedule to drop them off and pick them up at school on certain days.
Our girls are so proud of the business we're growing, and they love wearing their branded gear to school. Everyone in the family has helped with home shows, lawns signs, paint orders, and even the odd estimate. Together, we're building something special that also allows us to enjoy the smaller things in life.
Taylor Dunn, Shack Shine, Oakville/Burlington
The biggest reason I decided to go into franchising was to have more freedom. I've always worked for someone else and was tired of being constrained by somebody else's timeline. Now that I have a family, it's even more important to me to have control over my schedule.
When it comes to family and running a business, the keyword is balance. Our busy season is ramping up right now and it's my job to get everything going — but owning a Shack Shine franchise has given me the opportunity to step out when I need to be with my family. Our son is only three months old and I can go home in the middle of the day to help my wife if I need to. I could never have done that at any of my previous jobs.
Eric Blum, 1-800-GOT-JUNK?, Philadelphia North/Pittsburgh City
I joined 1-800-GOT-JUNK? before my wife and I had kids, but we knew we'd likely start a family in the next few years. I didn't want to be tied to a job that held me back from being a present father. At the time, I was working as an IT consultant for a large communications company. The job paid well but I wasn't passionate about the work. I was sitting in my cubicle one day and a friend sent me the link to the 1-800-GOT-JUNK? website. As soon as I saw it, it hit me that this was an opportunity to own my own business.
It's a lot of work in the beginning, there's no doubt about that. But as the business has matured, I've had so much more time to enjoy with my family. Our first child was born about two years in, and we had our second three years later. Now that the business basically runs itself with a great management team, it's freed me up to be around for the big moments. I'm proud to be the dad who can go to class parties or take my kids to appointments at any time during the day. The upfront effort is more than worth the long-term reward.