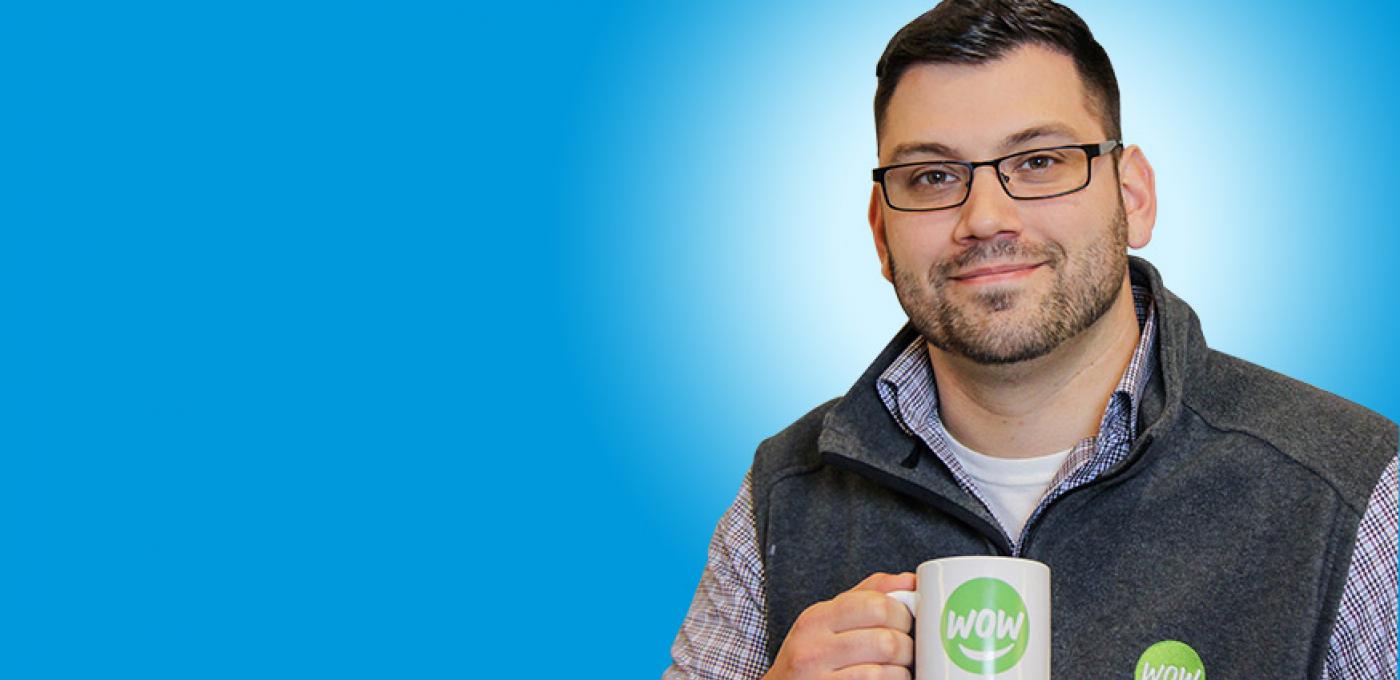 How One Man Stopped Clocking in and Started Making His Time Count
Painting is the ultimate summer job for students all over North America — that's how 34 year-old Justin Griffing earned money for most of high school and through college. But at the age of 25, he wrapped up his paint brush and went after an office job.
For eight years, he hustled for a large company selling trade show space. As a top salesman, he made a decent living and got to travel a lot, but something was missing. He was clocking in and out, wishing he could find something more fulfilling.
"In my heart, I wanted to be an entrepreneur and I dreamed of owning a business," he said. But he lacked the funds and know-how to get started.
In 2016, he stumbled upon an opportunity with WOW 1 DAY PAINTING and gave up the corporate grind for a shot at business ownership. Now, Justin is a franchise partner with WOW 1 DAY PAINTING in New Jersey and feels passionate about building something for himself. Most importantly, he has time to be a volunteer firefighter: "When I'm working from the home office or working local and there is a fire call in the middle of the day and I can respond."
This is his story.
How did you end up becoming a franchise partner for WOW 1 DAY PAINTING?
I was doing well as a salesperson, leading a team, learning marketing and sales, and getting some perks. But I was working hard for someone else; there was no incentive to do any better.
Then, I moved and my job started requiring a three-hour commute. That's when I started seriously looking for something new. I came across Brian Scudamore's episode of Power Pitch on LinkedIn, where he describes the concept of WOW 1 DAY PAINTING in 30 seconds. I thought it was a really cool idea.
I saw the video on a Friday, so I filled out a form requesting more information on their website, and went home from work. What I never expected was a call from Managing Director James Alisch the very next day. He said he thought I was the "right guy" and didn't want to wait for Monday to talk.
Was there a tipping point, where you knew it was time to go all in?
I was so done with busting my ass, but not feeling fulfilled. When people asked me what I did for a living, I often evaded the question because I had no sense of pride.
James shared his own experiences in the painting world and talked about the culture at WOW 1 DAY PAINTING. It didn't feel sales-y — it just seemed like I'd be joining a team of people like me. It felt like the right fit and I just found a way to make it work.
What do you like best about owning your own business?
I don't just punch in and out anymore, because I know I'm building something bigger. It gives me a sense of ownership and pride. Everything even says "WOW" on it — and that's how I feel when I'm driving the truck or wearing the brand.
Best of all, I like knowing that if I put the work in, I truly do reap the rewards for what I am putting in.
What would you tell prospective franchise owners?
As a corporate employee, you take everything for granted — the paycheque arrives, you have insurance set up for you, someone does the hiring, etc. I have a background in business, but actually running one day-to-day is a lot different than a textbook.
What makes the difference for me is the O2E Brands network: weekly meetings with my business coach, the support of our field team, and other franchise partners I can call on for advice. If I didn't have them, I probably would have given up by now.
If you're like I was, you might be dreaming of owning a business but not knowing what to do next. My biggest fear was not knowing how to do it. But when I started talking to the team, those feelings went away and I got excited about the possibilities instead.