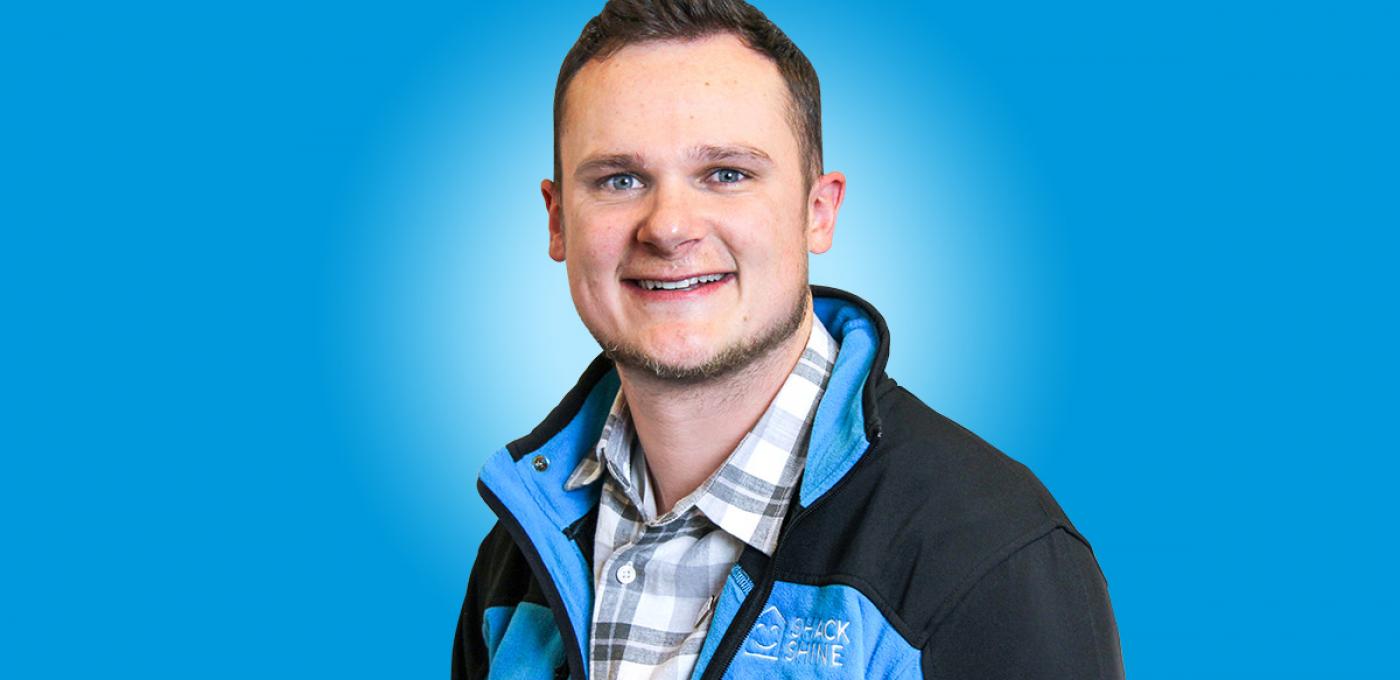 How this Millennial Climbed to the Top — Without the Corporate Ladder
Few people (besides the founder) can say they've been with a company since day one. But Mark Webb joined Shack Shine before the brand even existed. Under the mentorship of the owner, he worked his way up from technician, to marketing manager, to general manager. And now he's taken ownership of the franchise that gave him his start. Here's how he progressed from the ground floor to the top as a business owner with Shack Shine.
O2E: Tell me how you came to own a franchise with Shack Shine.
MW: I've been involved with the brand since the very beginning, when the founder started the first franchise on the North Shore. During startup, I was knocking on doors, doing our first jobs, and tackling all the big headaches that come in the early days of a new business. I eventually worked up to general manager, and the following year I bought the franchise.
O2E: How did you hear about the opportunity?
MW: I found the job online during the last semester of my marketing degree. When I talked with the owners, their idea and enthusiasm sparked my interest. They didn't even have a brand yet — but I looked at the opportunity more for it's potential than for what it was at the time. I knew I'd be kicking myself for not getting in on the ground floor.
O2E: So this was before Shack Shine joined the O2E Brands family of home-service companies. What changed when the company came on board?
MW: Before we joined O2E Brands, none of us had a lot of experience; we created a brand and ran with it. But joining forces with Brian Scudamore (founder of 1-800-GOT-JUNK? and WOW 1 DAY PAINTING) really professionalized our business. All our branding and marketing material became a lot more relevant and unique for our customers. We also gained all the support from head office, the Junktion.
O2E: What were you doing before you joined Shack Shine?
MW: Before my marketing degree, I completed my finance diploma with the intent to go into the financial sector. After I started working as a teller for a large bank, I realized it wasn't for me. I went back to school for marketing to broaden my business acumen so I could appeal to different sectors and get a job off the grid.
O2E: Once you were awarded the franchise, what happened next?
MW: I felt a difference as soon as I signed on and handed over the cheque. Before becoming a franchise partner, I cared about the company as much as I do now but I could separate myself from it. Now, everything relies on me and I'm the maker of my own future. It's scary but it's a healthy fear.
At the same time, the accountability is the fuel behind the fire. I've always performed at a higher level when I'm under pressure, and being totally responsible for my own income (and providing quality employment for others) keeps me motivated. As a business owner, there are no excuses — only results. And being accountable for those results drives me to succeed.
O2E: What are the benefits of joining a franchise network?
MW: I was fortunate to take ownership of a franchise I knew inside and out, and to still be in contact with my mentor. 
The most inspiring part of the O2E Brands family is the people in it. When you go to the Junktion and see how much work goes in behind the scenes, it amplifies the fact that I could not be doing this alone. The whole network is working together to make my business grow and to help us serve our customers as well as we do.
O2E: Is there anything else you want us to know?
MW: As a new business owner, the biggest learning curve has been the management of my own personal bandwidth. It's easy to bite off more than you can chew and it can be exhausting if you let it. But you need to recognize when it's time to lean on the system for support. If you don't, it'll only hurt your business. Discovering my own limitations has taught me some hard lessons, but by learning how much I can personally take, I have become a much more focused, grounded and capable leader.