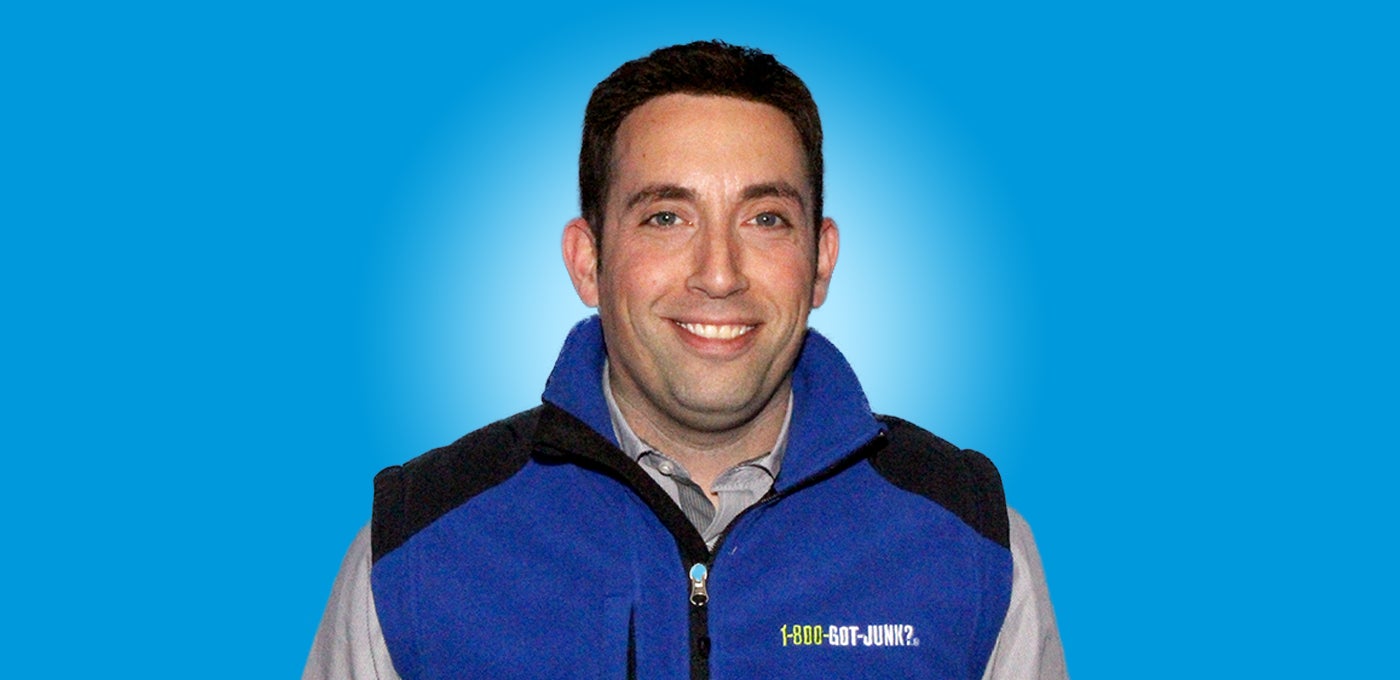 How This Ex-Junk Hauler Turned a Summer Job into a Multi-Business Empire
In 2003, Ashton Lubman was a struggling student who had no idea what to do with his future. But then he got a summer job with 1-800-GOT-JUNK, and he turned it into a life-changing opportunity. Now, he's the owner of seven franchises across North America and he's made a living he never could have dreamed of.
Here's how Ashton went from hauling junk to building a multi-franchise empire with O2E Brands.

O2E: What kind of experience did you have before becoming a franchise partner with 1-800-GOT-JUNK?
AL: The only work experience I've ever had has been with 1-800-GOT-JUNK?. I started in university when I got a summer job working on the trucks. At the time, I really lacked direction and was at a loss for what to do next. So I asked Paul Guy (the Toronto franchise partner) if there was a bigger opportunity for me within the business.
He agreed to let me take on operations and administrative tasks during a time when the business was exploding; we doubled our revenues in just a couple of years. I worked really hard, and Paul and I had a strong relationship. I eventually dropped out of school with only a few credits left, and I stayed on as operations manager.
O2E: What skills do you think you need to be a successful franchise owner?
AL: I had no previous management experience, so when I took on the operations manager role, I was really cutting my teeth in the real world. Paul took me under his wing and taught me what it means to run a business and to be an effective leader. I was so much more passionate about my work than I ever was about school.
Entrepreneurship is about believing in yourself. If you learn to have faith and to be accountable, it will pay off big time. I started this journey with a commitment to myself to learn and grow as much as I can. There are bumps along the way but you have to fight through it. Confidence and perseverance go a long way.
O2E: What advice would you give to someone looking into franchising?
AL: Every franchise is different. But in the service industry, it really is all about people. We're going into people's homes and interacting on a very personal level. So the most important thing is to hone your people skills.
This applies to how you manage your team, too. It's about inspiring people to do their best and getting results together. Helping people reach their full potential is the heart and essence of this business.
This comes from being an active and engaged leader. Absentee ownership damages everything — from growth, to culture, to customer experience. Your business will have a culture no matter what, so it's up to you to create a positive one.
O2E: What is the benefit of joining a franchise system?
AL: O2E Brands is truly an entrepreneurial incubator. I'm 35 and I make more money than I ever thought I would. I'm now partial owner of six 1-800-GOT-JUNK? franchises. None of it would've been possible without O2E Brands and the network.
Joining a franchise system gives you membership to a community of successful entrepreneurs who are going through the same experience as you. If you foster those relationships, like I did with Paul when I was just a junk hauler, it can turn into an opportunity you never expected.
Success doesn't happen overnight; I've been burned a lot and I've learned a lot. But when you own a business, it has your fingerprints on it and it's an incredibly rewarding thing.