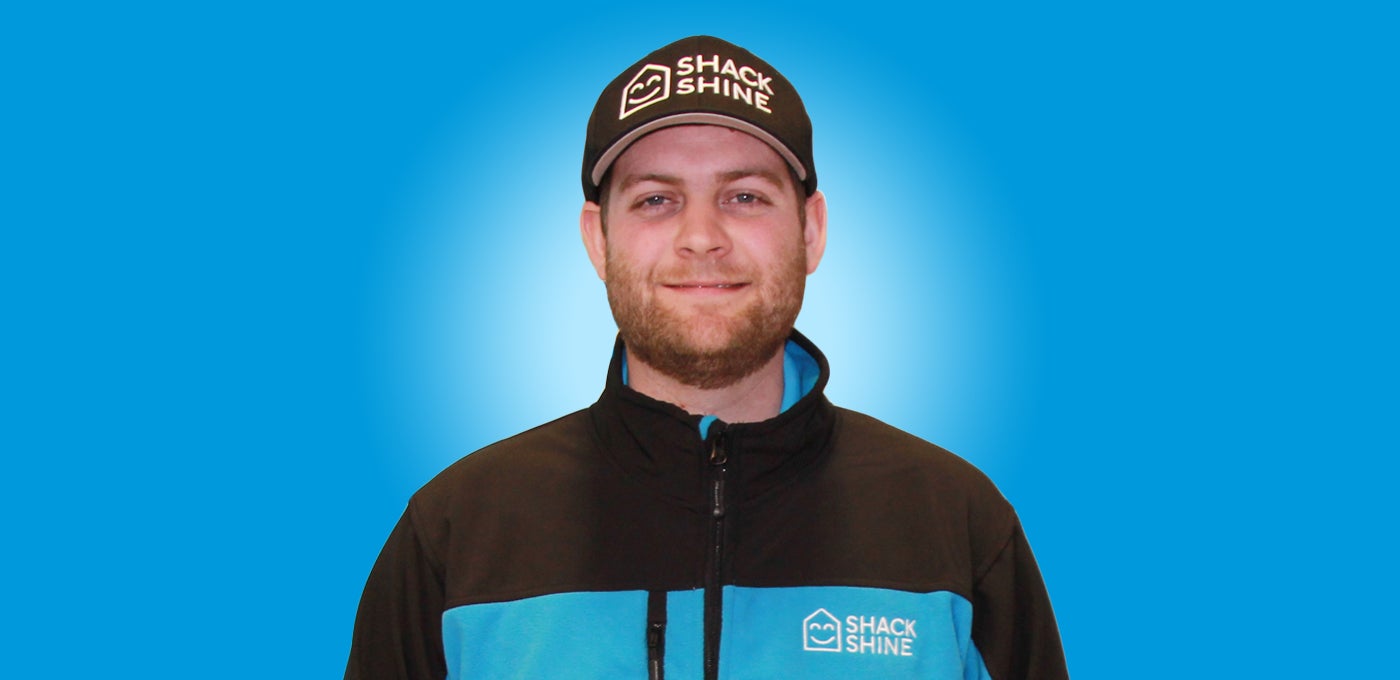 Cleaning His Way to the Top: An Entrepreneur Finds Business Success in Franchising
Ethan Brooks is no newcomer to the home services industry — at 15 years old, he started working at a car wash, a job that supported him all the way through college. He loved providing quality service to his customers, so when he graduated, he decided to stay in the service industry. He worked for a few different companies but, no matter where he went, there was still something missing.
He'd always wanted to start his own business so he left his job in search of a new opportunity. Here's how he found Shack Shine and how franchise ownership changed his life.

O2E: Why did you choose to start a house detailing business?
EB: I've been in this industry for 12 years. I worked at the car wash for seven years and loved it. I was passionate about the service I was providing and it was always a fun environment. But I also love business and always knew I'd start my own one day.
I went to school for entrepreneurship and opened a small pressure washing company on the side. When I graduated, I worked as sales manager for a siding company. After three years, I decided I wanted more independence so I moved on to a window installation company. I only lasted 5 months before I realized: it's time to get serious about starting a business.
O2E: What made you look into franchising?
EB: I knew this was the industry I wanted to be in because I was familiar with it and enjoyed it. I also knew that starting alone would be very difficult. I realized I needed help if I wanted to grow and scale a business, so I thought a franchise model would enable me to do that best.
O2E: Why did you choose Shack Shine?
EB: Ultimately, I chose to partner with Shack Shine because of the professionalism, the culture and the legitimacy. I looked into a lot of franchise opportunities and you can tell when a brand will work and when it won't. Most other franchisors in this space are very amateur in terms of franchising. While Shack Shine itself is still in start-up (which I love, by the way), the company behind it, O2E Brands, is not. It has proven success with three other brands so it's a great combination of start-up culture and operational maturity.
O2E: What has been the best part so far?
EB: Working on my own business has been incredibly rewarding. There's a strong sense of pride that goes along with it. Yes, there's a franchisor behind my business but Shack Shine Ann Arbor is mine and I'm proud to take ownership of that.
I also love that I get to control the culture of my franchise. It's one of the best parts but also one of the most challenging. There are a lot of ups and downs with trying to find the right people who fit with the environment you're trying to create.
O2E: What does franchise ownership give you that previous jobs didn't?
EB: I have a sense of autonomy and accountability I've never had before. At the same time, I know I'm not alone in this. Starting a franchise gives you the opportunity to own a business without having to be completely on your own. The backbone and support are there, but you also have the freedom and independence to create the culture and run the business you envision.
It goes back to my car washing days: there's pride and satisfaction in taking care of your customers. Customers came to us because they trusted us to take care of them. That's absolutely translated into my experience with Shack Shine.